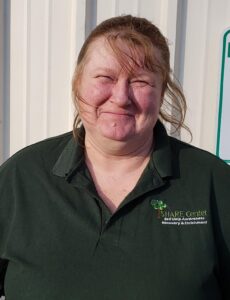 Margaret Krueger
Operations Manager
Margaret moved to Battle Creek from Florida and has been at the SHARE Center since 2014. At one point in her life, she was homeless without transportation. She sold her car to save money for an apartment and walked to and from the women's shelter everyday.
Margaret was able to find a job at Kmart where she worked for about four years. When she started at the SHARE Center, she was working the front desk before becoming Staff Supervisor and later, Operations Manager.
Margaret likes working at the SHARE Center because she knows what it is like to be homeless. She wants to help people accomplish their goals and wants everyone to know the SHARE Center is a place where people struggling with homelessness, addiction, and mental health issues can find someone to talk to, trust, and get help.
Margaret was raised on a farm and loves the outdoors. She also enjoys reading and riding horses.