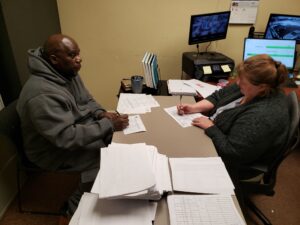 Not having a state ID and/or vital records is often an insurmountable barrier for people experiencing homelessness. Vital records and state IDs are required to receive a variety of public benefits, to obtain employment, and open a bank account.
Our dedicated staff helps between 2-300 individuals track down the documentation required for obtaining a state ID and vital records. With support from our County Clerk and County Commissioners, we are able to secure vital records fee waivers for homeless individuals born in Calhoun Co. We also have limited funds to help pay for vital records and documents outside of Calhoun Co. and for state IDs.
In 2018, the SHARE Center was recognized by the Michigan Coalition Against Homelessness with a Public Policy Champion Award for our work towards implementing pilot programs that allow homeless individuals to use alternative documentation to obtain a state ID and secure a fee waiver for county held vital records.
Thanks to the passage of MI. Senate Bill 404, we will be able to secure fee waivers for state IDs beginning March 29, 2019.
For more information and appointments regarding the vital records and ID Program, please contact Margaret Krueger at margaret.krueger@sharecenterbc.org